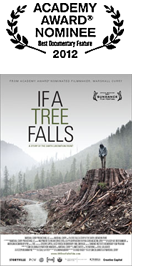 If a Tree Falls: A Story of the Earth Liberation Front
is the Academy Award-nominated documentary, about an environmentalist who faced life in prison for burning two timber facilities.
Part coming-of-age story, part cops-and-robbers thrilller, the film interweaves a verite chronicle of Daniel McGowan on house arrest and a dramatic recounting of the events that led to his involvement with the radical environmental group. Using never-before-seen archival footage and intimate interviews-- with the ELF members and the prosecutor who was chasing them-- the film asks hard questions about environmentalism, activism, and the way we define terrorism.
"One of the best documentaries of the year." Critic's Choice.
-Kenneth Turan, The Los Angeles Times
"By turns elegiac, tender, funny and horrifying, it is a portrait of McGowan that doubles as a complex philosophical argument about the benefits and dangers of violent social protest. "
-Matt Zoller Seitz, Salon.com
Winner: Sundance Film Festival: Best Documentary Editing
Winner: Dallas Film Festival: Environmental Visions Award
Winner: Nashville Film Festival: Best Documentary
Winner: Traverse City Film Festival: Founders Award for Best Documentary
Winner: Santa Cruz Film Festival: Earthvision Environmental Jury Prize
Winner: Flagstaff Mountain Film Festival: Best Feature
www.IfaTreeFallsFilm.com



© 2012 Marshall Curry Productions. All rights reserved.