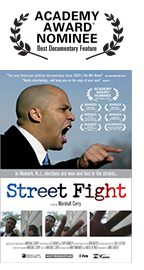 Street Fight
is a thrilling Academy Award®-nominated story of bare-knuckle politics in America. When a young unknown challenger named Cory Booker takes on the head of a powerful political machine, he discovers that sometimes elections are won and lost in the streets.
Gritty, funny, and surprisingly inspirational, the film goes behind-the-scenes in a rough-and-tumble campaign in Newark, N.J. It offers an intimate, unvarnished view of Booker before he became a U.S. Senator and regular fixture on national political talk shows.
Street Fight also explores the complex politics of race in an election that pits Spike Lee and Cornel West against Al Sharpton and Jesse Jackson, and features Bill Bradley and Chris Christie.
Winner of the Audience Award at the Tribeca Film Festival, the critically acclaimed film was called "the best American political documentary since
The War Room
" by the Washington Post.
For more, visit:
ww
w
.StreetFig
htFilm.com

"An electrifying, suspenseful film, full of street-level political drama."
- Andrew O'Hehir, Salon.com
"Vastly entertaining... Street Fight will keep you on the edge of your seat."
-John Anderson, Variety
Winner: Tribeca Film Festival Audience Award
Winner: Hot Docs Film Festival: Audience Award
Winner: Hot Docs Film Festival: Best Interntaional Documentary
Winner: AFI/Discovery Silverdocs Film Festival: Audience Award
© 2014 Marshall Curry Productions. All rights reserved.